DUCTLESS AIR CONDITIONING in Nashville, TN
HOME / DUCTLESS AIR CONDITIONING
If you want to stay cool, but lack ductwork, these versatile units are the way to go!
Ductless air conditioning systems are small, indoor devices that offer personalized comfort for your home or business. Ductless cooling systems are energy efficient, environmentally friendly and completely customizable. They offer homeowners the ability to cool specific zones of their home to the exact temperature they desire, providing relief from heat and humidity we all look for in the summer months.
These units deliver air directly to the zone that demands it, unlike traditional heat pumps and central air conditioning systems which push air through all ducts. They are small and require a mounting space and electricity – that's it! They are a great option for home additions or for improving temperature control in specific rooms.
Ductless systems operate on less power. You save big on your overall costs because your home won't be relying on an inefficient system to cool it. Instead, your unit will run only when the space demands it. If you choose to run a multi-split system with multiple units, you'll further be able to create comfort zones. No more wasted utility money on cooling rooms that aren't occupied.
Ductwork requires professional cleaning on a regular basis. Even with diligent cleaning, dust and allergens are left behind. Ductless systems, on the other hand, do not have this requirement. They actually filter your indoor air, and can drastically reduce dust, bacteria, pollen, allergens and other particles in the air.
Traditional central air conditioning can take several weeks to install and is very disruptive to those in the home. But ductless systems can be up and running in as little as a day! You won't lose square footage (or sleep!) like you may installing ducts in your home.
Greater energy efficiency means you're reducing your total carbon output. Of course, this also means you're saving money on your utilities. Ductless systems follow ENERGY STAR guidelines and are an energy efficient, environmentally friendly choice.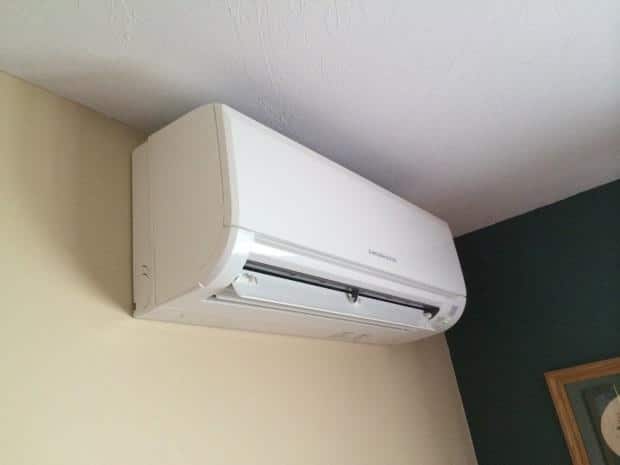 Frequently Asked Questions
A mini-split air conditioning and heating system consists of three main components: an indoor unit, an outdoor unit and a remote control. The difference is that there are no air ducts to install. If you are worried about ugly, unsightly hoses and wires – don't be! The indoor and outdoor units are connected with small, unobtrusive refrigeration lines. You can place your mini-split system just about anywhere because of its compact size.
Mini-split air conditioning systems offer several advantages over other heating and cooling systems. We've already given you some detail above, but the its highlights are: small, quiet, easy to install and energy efficient.
There are plenty more places than these to install your ductless heating and cooling system, but here are a few areas where you can benefit from having zoned control over your heating and air conditioning.​ Sunrooms, Expansions & Remodels, Garages & Workshops, Attic & Upstairs Bedrooms, and Offices & Small Spaces.




Some of The Locations We provide ductless air conditioning service and installation for in Tennessee
Scottsboro
,
Radnor
,
Phillips
,
Maplewood
,
Providence
,
Greenville
,
Montague
,
Madison
,
Fair Oaks
,
Antioch
,
Sulphur Springs
,
Hermitage
,
Travis
,
Forest Grove
,
Goodlettsville
,
Rockland
,
Sycamore
,
Bethlehem
,
Hendersonville
,
Morrow
,
Rocksprings
,
Sandy Springs
,
Beech Grove
,
Smyrna
,
Bluefield
,
Rockdale
,
Bethel
,
Neptune
,
Thomasville
,
Greenwood
Nashville Heating and Cooling