WE KEEP YOUR HOME COMFORTABLE
With Programmable Thermostats, Zone Heating, & Air Conditioning in Nashville, TN
HOME / THERMOSTATS & ZONING
Comfort You Control At Your Fingertips
Consistent comfort that you control is within your grasp with a new thermostat. By installing a new state-of-the-art thermostat, you help ensure that your heating and cooling system is operating at peak capacity when you need it the most. We are here to provide you with programmable smart thermostats, or non-programmable options, should you prefer. We know all of the most reliable technology that is available today, and we are here to point you in the right direction for your home heating and air conditioning solution.
All the thermostats we install are easy to use and maximize the performance of your heating and air conditioning system, for dependable and consistent temperature control. With the range of temperatures we see here in Nashville, TN, you know you need a reliable thermostat to keep you warm and toasty when temperatures plummet, and nice and cool when the heat and humidity soars.
Thermostats & Zoning Problems Solved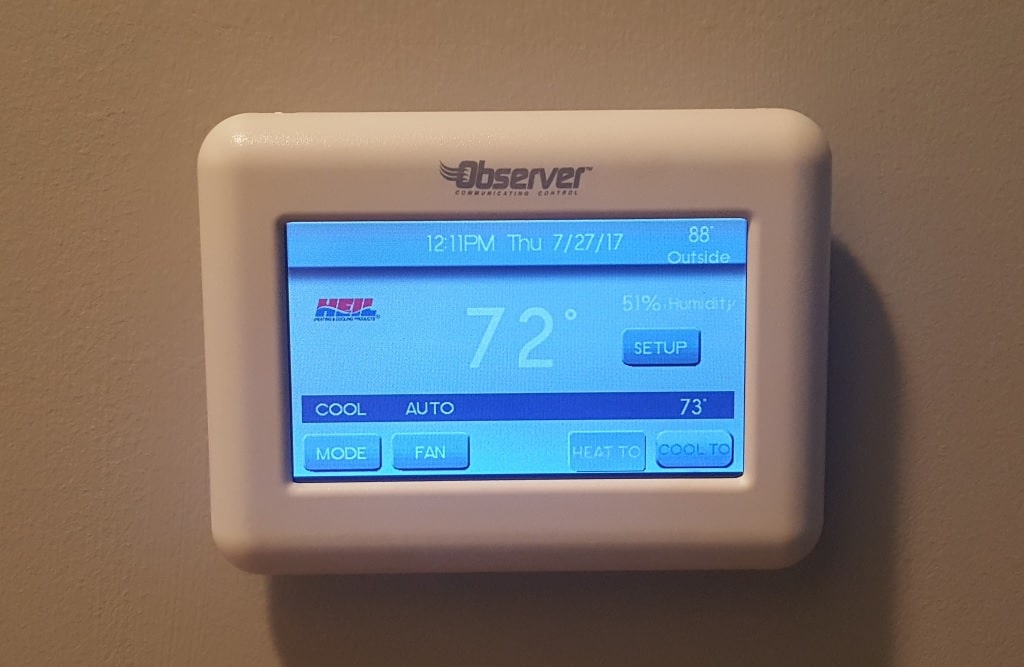 Benefits of Programmable Thermostats
Did you know you can save up to 33% on annual heating and cooling costs with a new programmable thermostat, while customizing your home comfort? This simple home upgrade will help lower your utility bills for years to come, making it a wise home investment. It also extends the life of your heating and cooling system by allowing it to work less.
Programmable thermostats have such impressive results because you don't have to remember to adjust the temperature in your home before leaving each day or at bedtime. They can boost home comfort by allowing you to customize home temperatures when you are sleeping. You simply program desired home temperatures, and rest assured that your home will stay comfortable while saving energy.
Our programmable thermostats feature:
Benefits of Non-Programmable Thermostats
Non-programmable thermostats are great for regulating room temperature to one desired set point. They are manufactured with both digital and non-digital displays.
Non-programmable thermostats are:
Do you have rooms in your home that are cooler or warmer than others? Do you have to fire up you heating and cooling system to compensate for these troublesome rooms? Or maybe you have rooms in your home that you wish were different temperatures at different times, depending on their use? This is all possible with zoning systems.
A home zoning system is the first step towards achieving rooms that keep everyone comfortable. Once installed, it's as simple as programing your thermostat to match your needs, or adjusting it accordingly. By installing a home zoning system, you will have full control over your home's ventilation, comfort, and energy use. A trained Nashville Heating and Cooling technician will assess and divide your home's ductwork or baseboard heating into zones that can be heated or cooled independently.
Zoning your home will reduce your utility bills by more wisely heating and cooling your home. Choosing to zone your home means that you will not heat or cool that extra bedroom nobody uses. Like your bedroom warmer at night, but don't want to heat the living room, dining room and kitchen while you're sleeping? Zone heat is the answer. Home zoning opens up an entire realm of energy and money savings, which you will see in the first year after installation.
When you're ready for that new thermostat, or you'd like us to assess if you can benefit from home zone heating and cooling, give us a call at 877-813-1053 to arrange a no obligation estimate.
Some of The Locations We provide thermostat service and installation for in Tennessee
Scottsboro
,
Radnor
,
Phillips
,
Maplewood
,
Providence
,
Greenville
,
Montague
,
Madison
,
Fair Oaks
,
Antioch
,
Sulphur Springs
,
Hermitage
,
Travis
,
Forest Grove
,
Goodlettsville
,
Rockland
,
Sycamore
,
Bethlehem
,
Hendersonville
,
Morrow
,
Rocksprings
,
Sandy Springs
,
Beech Grove
,
Smyrna
,
Bluefield
,
Rockdale
,
Bethel
,
Neptune
,
Thomasville
,
Greenwood
Nashville Heating and Cooling