DUCTLESS MINI-SPLIT HEATING Nashville, TN
Stay warm and cozy everywhere in your home.
Why Choose A Ductless Heating & Cooling System
It can be the right choice whether you want to take care of those cold spots without replacing your current heating system, or are looking for a whole home zoned comfort solution in Nashville, TN
Ductless mini-split heating and cooling systems, the units we install are small indoor devices that offer personalized comfort for your home or business. They are the perfect fit whether you are looking to make a single uncomfortable room more useful, you're renovating your entire house, or you're building a new house from the ground up.
Ductless heating systems are energy efficient, environmentally friendly and completely customizable. They offer homeowners the ability to heat specific zones of their home to the exact temperature they desire, making you comfy and cozy on those frigid, cold days and nights and keeping you cool and comfortable on hot, humid summer nights.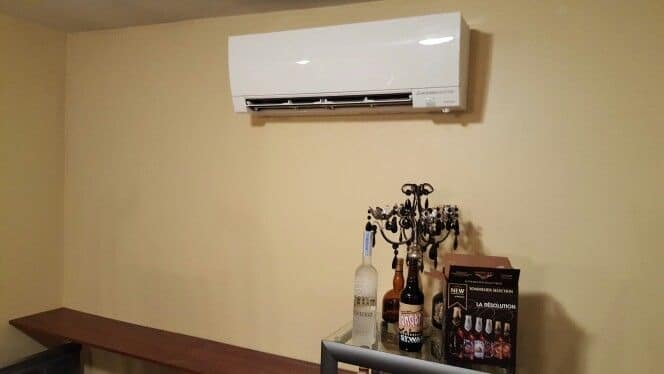 The Benefits of Ductless Mini-Split Heating & Cooling:
These units deliver hot air directly to the zone that demands it, unlike traditional heat pumps which push air through all ducts. They are small and require a mounting space and electricity – that's it! They are a great option for home additions or for improving temperature control in specific rooms.
Ductless systems operate on less power. You save big on your overall costs because your home won't be relying on an inefficient system to cool it. Instead, your unit will run only when the space demands it. If you choose to run a multi-split system with multiple units, you'll further be able to create comfort zones. No more wasted utility money on cooling rooms that aren't occupied.
Ductwork requires professional cleaning on a regular basis. Even with diligent cleaning, dust and allergens are left behind. Ductless systems, on the other hand, do not have this requirement. They actually filter your indoor air, and can drastically reduce dust, bacteria, pollen, allergens and other particles in the air.
Traditional heating system can take several weeks to install and is very disruptive to those in the home. But ductless systems can be up and running in as little as a day! You won't lose square footage (or sleep!) like you may installing ducts in your home.
Greater energy efficiency means you're reducing your total carbon output. Of course, this also means you're saving money on your utilities. Ductless systems follow ENERGY STAR guidelines and are an energy efficient, environmentally friendly choice.
Some of The Locations We provide ductless service and maintenance for in Tennessee
Scottsboro
,
Radnor
,
Phillips
,
Maplewood
,
Providence
,
Greenville
,
Montague
,
Madison
,
Fair Oaks
,
Antioch
,
Sulphur Springs
,
Hermitage
,
Travis
,
Forest Grove
,
Goodlettsville
,
Rockland
,
Sycamore
,
Bethlehem
,
Hendersonville
,
Morrow
,
Rocksprings
,
Sandy Springs
,
Beech Grove
,
Smyrna
,
Bluefield
,
Rockdale
,
Bethel
,
Neptune
,
Thomasville
,
Greenwood
Nashville Heating and Cooling